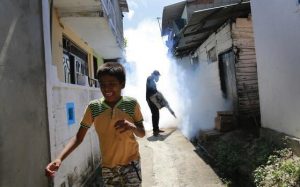 The worst-ever outbreak of dengue fever has killed nearly 300 people in Sri Lanka, with aid agencies warns over mosquito-borne viral disease.
"Dengue patients are streaming into overcrowded hospitals that are stretched beyond capacity and struggling to cope, particularly in the country's hardest hit western province," Red Cross said in a statement.
The Red Cross announced it was increasing its budget by $300,000 to cope with the unprecedented outbreak.
The ministry of health said the number of dengue infections has climbed above 100,000 since the start of 2017, with 296 deaths. Quoted from Aljazeera.
That figure is nearly double the previous year.
Health officials blamed the current crisis on recent monsoon rains and floods that have left pools of stagnant water and rotting rain-soaked trash, ideal breeding sites for mosquitoes that carry the virus.
According to the World Health Organization (WHO), dengue is one of the world's fastest growing diseases, endemic in 100 countries, with as many as 390 million infections annually.
Authorities have blamed a waste management crisis in the capital for the unusually large number of infections.