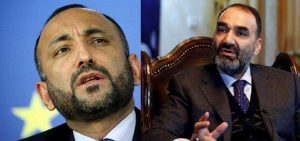 Reliable reports indicate the Afghan national security council adviser Hanif Atmar has sent a message to Balkh governor and chief executive of Hezb-e Jamiat-e Islami Ata M. Noor by the commander Amanullah Gozar on Thursday.
According to Razaq Mamoon's Web blog – a reliable source close to the Afghan national security council – commander Miramanullah Gozar handed over the special message of M. Hanif Atmar, the national security adviser to Ustad Ata M. Noor in his recent trip to Mazar-e Sharif (Balkh).
It is said the message contained a controversy between Mr. Atmar, Ghani, and Abdullah on how to deploy army and police forces to forcefully dismiss Mr. Noor as Balkh governor and appointing a new governor in Balkh province.
According to the source, "Your post [Ata M. Noor's post] will be guaranteed until the end of the current administration, and some other demands you posed will be met "as much as possible," the message said.
Although the local government of Balkh province has not yet commented regarding the issue, the recent meeting by foreign ambassadors with Salahuddin Rabbani and Mohammad Mohaqiq indicate that foreign forces and the security council are worried over the consequences of Ghani and Abdullah's insistence and popular uprising in other provinces.
The source quoted from Hanif Atmar: "our emphasis on the issue that no army and security units ready to confront Mr. Noor; effective on Ghani and Abdullah and the incidents of Dr. Najibullah era will be possibly repeated."
In this message, Atmar also mentioned that at the time of Dr. Najib, there was a general in Balkh named "Joma Asak" but now there is a general named "Sayed Kamal" who really afraids of Noor.
The national security adviser reminded the uncertainty of the central government over a military march towards Balkh province, adding it is unclear whether the officers and commanders obey the central government.
Mr. Atmar talked about the commander of the public order as an example: "the commander of the public order openly disobeyed the central government but the interior minister went to Balkh province and was his guest, but he could not even say a word to him."
On the other hand, it has come in Atmar's message that now the country is in danger of division and if the administration collapses, it will be not in the interest of all. There are many meeting held in ARG palace day and night but have not had a tangible result.