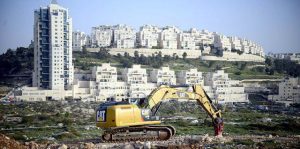 The European Union considers the construction of new Israeli settlements contrary to the international law and calls on the country to review its decision.
The EU's high representative for foreign affairs and security policy, Federica Mogherin's press office issued a statement, reminding the approval of more than 1500 new settlements in Jerusalem by Israeli officials earlier this week, declared that the settlements will continue to the Palestinian Sheikh Jarrah neighborhood and the E.U officials are asking Israel to reconsider this decision.
"The policy of building new settlements is contrary to the international law. It will harm the two-state solution process for solving the Israeli-Palestinian issue," the statement added.
The European Union calls for the two sides to focus on the two-state solution within the framework of "meaningful negotiations."
The statement stressed that the fulfillment of the legitimate demands of both sides is subject to negotiations, and the European Union, together with its other international and regional partners, is ready to provide the necessary support in this regard.