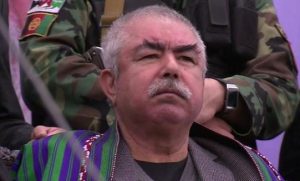 The Supreme Court held the first court session of General Dostum and his bodyguards in connection with what is said to be sexual abuse of Ahmad Ishchi, the former governor of Jawzjan province.
Ahmad Ishchi, who claimed to have been ill-treated by general Dostum, said the court session terminated due to the absence of Dostum and his body guards.
Mr. Ishchi also said that even Dostum's soldiers were not present at the court session, so it ended, but the judge ordered the attorney to make them attend the next session.
Meanwhile, general Dostum's spokesman, Bashir Ahmad considered the court political and said that Dostum and his deputies will never attend the court session.
The Supreme Court has not commented on Thursday meeting (13 July) yet.
But Mr. Ishchi said that he will complain to international court if this case is not addressed in Afghanistan.
Ahmad Ishchi's sexual abuse case has been tied to political grand games since a year ago in Afghanistan and it seems it would not be solved soon.