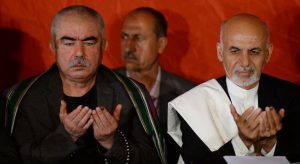 Afghan president M. Ashraf Ghani has recently gone to Turkey to attend the emergency summit of Organization of Islamic Cooperation.
"During the visit, president Ghani is expected to discuss with general Dostum, the first vice president behind closed doors," a source from Hezb-e Junbish Islami who asked to remain unknown told DID news agency.
The meeting between the president and his first deputy comes as Gen. Dostum has been in Turkey for at least six months due to misbehavior with Ahmad Ishchi.
General Dostum is currently a member of the national Coalition for the Salvation of Afghanistan, which this political movement accuse the presidency of the monopoly of power.
The critics of the administration say, president Ghani has politically acted on the case of his first deputy.
Reports have been previously released that the government attempts to take advantage of general Dostum file.
This is the first time, the president is going to visit his first deputy after his trip to Turkey.