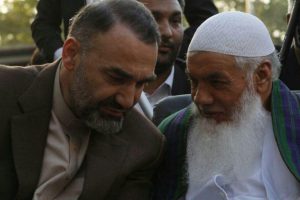 The chief executive of Hezb-e Jamiat Islami, a senior member of the Rescue Coalition and Balkh governor Ata M. Noor along with a delegation entered Herat province Tuesday.
According to DID news agency report, the main purpose of Mr. Noor's visit form Herat province was to save Afghan people from the oppression of ARG leaders, and mobilizing Herati people for the upcoming presidential election.
The senior member of the Rescue Coalition Ata M. Noor during his trip to Herat province told the Jihadi Leader and former minister of energy and water Emir Ismael Khan that he came to Herat to mobilize the people toward a better future.
Speaking about the problems of people and widespread corruption within governmental offices, he said that upcoming election is for people and the people should have a single, powerful leader.
According to Mr. Noor, leaders of the administration have no plan for the current situation of Afghanistan so that people enjoy peace.
"We first seek reform within the administration, If reforms were impossible, then it must be collapsed," Mr. Noor said.
"I have documents in hand that are revealed by the media outlets these days which points out a widespread corruption in governmental offices by ARG officials," Balkh governor asserted.
Mr. Noor accused the Afghan national security council of supporting Taliban and ISIL, saying each country has specific Taliban in Afghanistan.
In part of his remarks, he noted that media outlets have published my misinterpreted words that Mr. Noor vowed his candidacy for the presidential election, but it is not, with the advice of the elders, my presence at the upcoming election is likely.
"Some points must be observed in next election: the election commission must be terminated, it should be reformed or an alternative, national and international representatives should observe it, otherwise, the election is not acceptable," he stressed.
Meanwhile, Amir M. Ismael Khan, the former Jihadi leader and former minister of energy and water considered the current government "futile" saying: "the two doctors of the administration are unable to run the duty and must resign."
According to him, leaders and Jihadi figures of the country must join together to change the general situation of Afghanistan, so the people achieve a complete peace.
Mr. Ismael Khan says the Afghan war is linked to neighboring countries and world powers, stressing the process must end as soon as possible.
This is the first time that Balkh governor Ata M. Noor travel to Herat province since the beginning of National unity government.