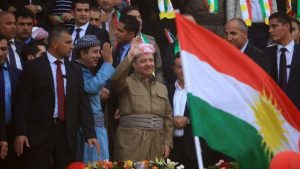 Kurdish authorities in Iraq offered on Wednesday to suspend an independence results, stepping up efforts to resolve a crisis in relations with Baghdad via dialogue rather than military means.
According to Reuters, Iraq's autonomous Kurdistan region proposed an immediate ceasefire, a suspension of the referendum result, and "starting an open dialogue with the federal government based on the Iraqi Constitution".
"The fighting between the two sides will not produce a victory for any, it will take the country to total destruction," said the Kurdistan Regional Government (KRG) in a statement.
Baghdad declared the referendum illegal and responded by seizing back the city of Kirkuk, the oil-producing areas around it and other territory that the Kurds had captured from militant group Islamic State.
Meanwhile, Iraqi Prime Minister Haider al-Abadi has said the KRG should cancel the vote's outcome as a pre-condition for talks.
On the other hand, according to local reports, Iran announced the reopening of one of the border crossings with the Kurdistan region of Iraq, closed last week in support of the Iraqi government.