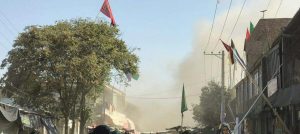 Daesh group claimed responsibility for Friday's Kabul attack, releasing a statement in Al-Amaq.
According to DID news agency report, Daesh took the responsibility of Friday attack which killed 5 people and wounded more than 20 others.
"The attacker had a suicide vest," said a spokesman for the ministry of interior affairs Najib Danish.
After the attack, ARG presidential palace condemned the attack, and stressed: "the unity of religion and solidarity of Afghan people is considered as a model in the world. Terrorists must understand that their anti-religion and anti-human acts will not affect the unity of Afghan Muslim people.