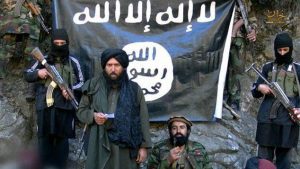 NATO-led foreign forces in Afghanistan have confirmed that three soldiers of these troops wounded in an explosion in Afghanistan's Nangarhar province in the east.
NATO's press office by releasing a statement said that on Hut 23th (March 13th), around 19:45 local time, a vehicle belonging to the forces hit a mine and according to these forces three American soldiers superficially wounded in this incident who returned to their duties again.
The statement said that their car has been repaired too.
Daesh (ISIS) took the responsibility of the attack, saying that they have destroyed a US military vehicle in Lame area in a place called "Chaparhar".
Nangarhar province is the origin of ISIS in Afghanistan. Interior and foreign security forces have involved with terrorists linked to Daesh in this province since several years onwards.
The essence of what recently happened by ISIS in Nangarhar, neither casualties nor for the destruction caused by a terrorist act, does not matter. As the statement said, two US troops superficially wounded and by a re-treatment returned to duty again, and damaged military vehicle, have been used after repairment; but that a military convoy belonging to US forces, is consciously targeted by a new formed terror group, that has not really involved into operation, is something that gives importance to this event and make it worthy of attention.
Expert say that even if this provocative action has been conducted by ISIS to draw NATO forces attention to the operation power of this Terror group, send out an important message; the message that reports terrible consequences in the future.
US commanders had already warned about the ISIS potential power for creating insecurity, violence and war in Afghanistan.
The first time, it was a US senior commander who claimed that ISIS is trying to create far-reach areas of Nangarhar as their "regional capital" by establishing their military bases in these places; warning that apparently not taken seriously enough, over the course of reactions that have been showed against the influence and emergence of Daesh activities in Nangarhar and other places; otherwise, perhaps today we would not witness empowerments of this terror group, to the context that will be able to saber-rattling against NATO and American forces, too.
However, now ISIS has practically entered into war against the government and foreign forces; and … in a situation that international forces avoid from direct struggle against terrorism by transferring the security responsibility to Afghanistan government longtime ago. Unless their safety directly been threatened or targeted by terror attack.
What ISIS did in Nangarhar, was to violate the condition of foreign troops, to enter into battle against terrorists and in this way provided the excuse for American to return into battle fields against Daesh (ISIS).
The question now is whether America will return to the game?
Maybe now that America is reviewing its stance on the war in Afghanistan, it is hard to give a confident answer to this question; but the truth is that the security situation in Afghanistan is so unstable, fragile and deteriorating that America and its allies have no choice but to return to the battle fields.
ISIS will double the urgency and seriousness of the need.
On the other hand, the fact that America should inevitably return to the scene, is something that the result of US and NATO military commanders' calculations in Afghanistan have confirmed it too.
US commanders in recent weeks, on several occasions, besides acknowledging the defeat and stalemate in Afghanistan, have claimed that to overcome the current situation in Afghanistan, passing through the impasse and ensure future success, need to deploy thousands fresh troops.
In addition to this, although the official policy of the US government led by Donald Trump has not announced any records of the longest war in the history of America; but Mr. Trump and his aides have repeatedly vowed to wipe out the ISIS; something that could be applicable in Afghanistan.
Ali Rahil – (DID) news agency
Translated by: Taher Mojab