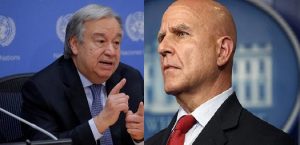 U.S. National Security Adviser H.R. McMaster has met privately with the U.N. Security Council and Secretary-General Antonio Guterres.
According to Washington Post, U.N. spokesman Stephane Dujarric says McMaster and Guterres discussed a wide range of global issues including Afghanistan.
Meanwhile, the Russian Ambassador Vassily Nebenzia told reporters that McMaster gave a "very good" and "very helpful" briefing on Afghanistan to the council Tuesday.
Nebenzia says he told McMaster that he agrees with most points the American raised and "fully agreed" with his statement on the need for Russian and U.S. cooperation on Afghanistan.
The Russian ambassador says he noted President Vladimir Putin's comment at a news conference in December "thanking the Americans for being in Afghanistan, for doing a job" and stressing the need for U.S.-Russian cooperation on the issue.
Russian and America have many differences about global issues but sometimes the two superpowers agree on issues like Afghanistan and the fight against terrorism.