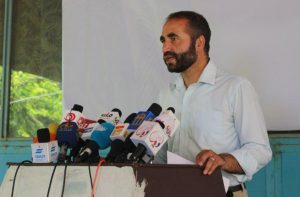 Supporting open media center in Afghanistan (Nai) talked about "how the media approach" in relation to covering events and asked the media to impartially cover the incidents.
According to (DID) news agency report, "Unfortunately, some domestic and foreign media try to give an ethnic and religious approach to the terrorist incidents, occurring in the country," Mujib Khalwatgar, head of "Nai" entity said.
"Media that seek to disunite the people in the country, should know that intentionally or unintentionally push the country toward a larger crisis which is strong and inflames religious wars," he warned.
"Media should use reliable sources in relation to announcing the number of casualties and losses in terrorist events and must not divert public opinion by releasing false statistics," Mr. Khalwatgar told DID news agency.
It is noteworthy that the attack on a mosque in Kabul several days ago, where a number of citizens were killed and wounded, was interpreted an attack to the followers of a particular ethnic and sect by some domestic and foreign media.