At least 90 refugees are feared drowned after a boat capsized off the coast of Libya, according to the UN International Organization of Migration (IOM).
---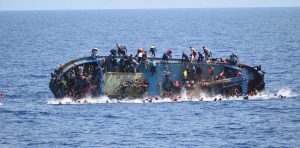 "They have given an estimate of 90 who drowned during the capsize, but we still have to verify the exact number of people who lost their lives during the tragedy," said Olivia Headon, a spokesperson for the UN migration agency.
"We are told that two survivors swam to shore, and one person was rescued by a fishing boat," Ms Headon said, speaking from Tunisia's capital. According to the Independent.
"We are working to get more details on the [capsizing] and where the survivors are so that we can assist them better."
More than 600,000 people are believed to have made the journey from Libya to Italy over the past four years, despite a dip after the crackdown which began in July last year.