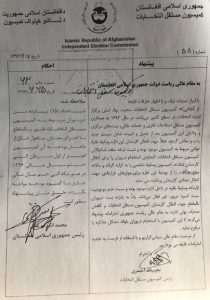 The recommended letter from the "Independent" election commission to the presidency that asked the president to hire 15 drivers for the commission; suggests two issues.
First, the monopoly and concentration of power to the extent that governmental entities and the president should hire the needed drivers for the "independent" institutions.
Second, it represents the independence limits and freedom of the so-called election commission.
The letter clearly indicates that the election commission has no freedom of action and freedom of expression, and that the claims of Arg political opponents about the monopoly and concentration of power by the president and those around him, are pure truth.
Moreover, this kind of monopoly has crossed its normal range and more looks like a lack of trust "syndrome" than the greed of authority.
We believe, the country's first person needs an urgent medical consultation period.