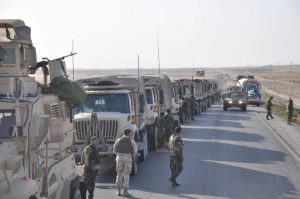 3,293 terrorist were killed in north and northeast of Afghanistan in the past seven months, officials of Shaheen 209 corps reported.
According to DID news agency, Nasratullah Jamshidi, the spokesman for Shaheen 209 corps says as a result of clashes between security forces and terror groups in the past seven months, 3,293 terrorists were killed and 2,222 others were wounded.
"Terror groups have suffered casualties in Faryab, Jawzjan, Sar-e Pul, Balkh, Samangan, Baghlan, Kunduz, Takhar and Badakhshan provinces during 45 operations carried out by country's security and defense forces," Mr. Jamshidi added.
According to him, 440 anti-personnel and anti-tank mines were discovered as well as 457 terrorists were detained.
Afghan national army forces report the heavy casualties of terror groups in the past seven months while nearly 500 civilians were killed and wounded by terror groups just last week.