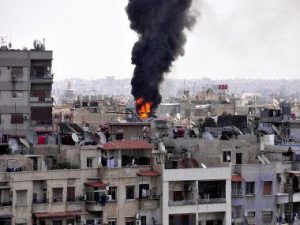 Russia's Embassy in Syria's capital of Damascus came under mortar fire by terrorists on Wednesday, according to the Russian Foreign Ministry.
Two mortar rounds fell on the territory of the Russian embassy with two more hitting close to the mission's perimeter, said the statement released by the Russian ministry.
There have been no casualties in the attack, the statement added.
Russia hopes that the Western countries in the United Nations Security Council will comment on the attack, the statement further said. According to Sputnik.
This is not the first attack on the Russian embassy. On July 16, Russia's Embassy in Damascus came under mortar fire.
Later, Moscow expressed regret that some UN Security Council members refused to qualify attacks on the Russian embassy in Damascus as terrorist acts.
The civil war in Syria has been lasting for around six years with government troops fighting against numerous opposition factions and terror organizations such as al-Nusra Front and Daesh group.