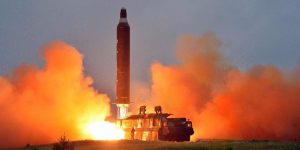 North Korea fired another intercontinental ballistic missile (ICBM) on Tuesday which flew longer and higher than previous missiles.
The move was an act of defiance against President Trump after he put the country back on a list of state sponsors of terrorism.
According to New York Times, the US president reacted cautiously to news of the launch, saying, "It is a situation that we will handle."
Meanwhile, US defense Secretary Jim Mattis expressed concerns over the missile that was launched northeast of the capital, Pyongyang, and ended nearly 600 miles to the east, when it landed in the Sea of Japan, a 53-minute flight.
"It went higher, frankly, than any previous shot they've taken," Mr. Mattis said in the White House, where he was taking part in a budget meeting with the president and Republican congressional leaders.
North Korea said Wednesday that it had successfully tested its Hwasong-15, a newly developed ICBM that it said could deliver heavy nuclear warheads anywhere in the continental United States.