"We must always wear black clothes here, here is the land of endless deaths, and we are miracles that are still alive."
---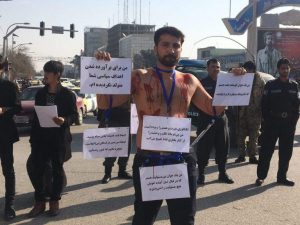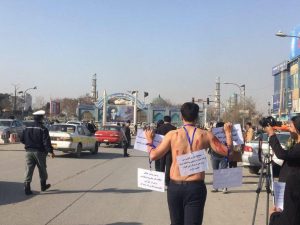 "We must always wear black clothes here, here is the land of endless deaths, and we are miracles that are still alive."
This slogan is one of the slogans that "Ahmed Khaled Bakhshi" brought from Kabul to Mazar-e Sharif. He had a printing office at "Sedarat" crossroads in capital Kabul, where 103 people were killed and more than 150 wounded by a bomb blast near him last month.
Ahmad Khaled Bakhshi, a young Kabuli man who protested naked in capital Kabul a while ago, today marched in a crowded street of Mazar-e Sharif, the capital of Balkh province, with the naked body hanging on slogans.
"the Bad security situation is the result of youth's silence. We have no law in this country, not as the establishment, neither security nor work," Mr. Bakhshi said.
I am an irresponsible man who does not accept any responsibility for my next generation! This slogan is one of the other slogans that Bakhshi has hung on his body.
"I will take this protest to all the provinces of Afghanistan. My goal is to wake up the youth and to inform the world about the bad security status and instability in Afghanistan," he added.
"Our generation must be aware more than ever, today, this is our generation that are the victims of blasts, suicides and the games of politicians," said Sultanzai, an activist in Balkh province, praising Bakhshi's action.
Earlier, Afghan performance artist Kubra Khademi marched alone to protest the harassment of women in public places in a different way, and recalls thinking one thing: "I wish my underwear was made of iron."
According to analysts, the lack of management and country's security systems are taking the lives of people every day. The capital city had witnessed many bloody incidents last month.
Mahdi Sarbaz – (DID) news agency
Translated by Zaher Mahjob