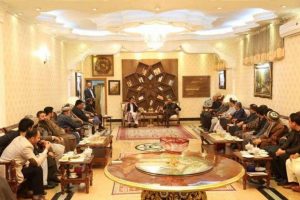 Bator Dostum, son of Gen. Dostum and head of the central council of Junbish-e Mill-e Islami visited Mr. Noor after returning from Turkey.
According to DID nws agency report, a number of Hezb-e Junbish-e Milli members and active youths of the party, head of Balkh provincial council and some members, commanders of North public uprising have attended the yesterday meeting of Bator Dostum and Balkh governor Ata M. Noor.
Both sides discussed current status in the country, the security situation of North, as well as the programs of the National Coalition for the Salvation of Afghanistan (Etelaf-e Nejat).
"Leaders of the National Rescue Coalition are against the absolute sovereignty. National partnership and justice should be considered in all areas instead of removing cadres of large political groups from the body of the government," said Mr. Noor referring to political anomalies.
Haji Bator Dostum stressed on consolidating unity and integrity of the members of supporters of the National Rescue Coalition for the salvation of Afghanistan. "The programs of National Coalition have been expanded in the villages and valleys of the country and the people widely support the National Coalition."
This comes as there are reports reflecting the arrival of Gen. Dostum to Mazar-e Sharif in the next two days.
It was previously said that general Dostum will come to Mazar-e Sharif, and will take part in a large conference of tens of thousands people along with Balkh governor Mr. Noor.