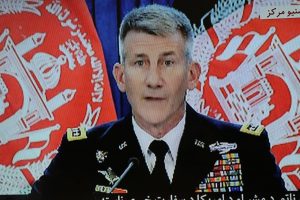 Commander of NATO forces in Afghanistan, Gen. John Nicholson at a joint press conference with the U.S ambassador in Kabul, send a message to Taliban to stop fighting and to lay down their arms.
"Taliban will not win the war and more than 90 % of Afghan people reject the comeback of Talibani system," Mr. Nicholson said.
Speaking at a press conference with the American ambassador; he added that Daesh group have activity in some part of Afghanistan, but their main core in Nangarhar province was defeated.
Although, he reported that NATO forces and its allies are determined in the fight against scaremongers, but adds that Afghan security forces themselves will lead the war.
Meanwhile, U.S ambassador Hugo Lawrence in Kabul insists that pressure should be maintained on Taliban, so that they will be forced to accept peace conditions by the government.
"Afghan government has promised to cooperate fully with the demands of Trump that it is determined to fight against scaremongers, counter corruption and to create a responsible administration," Mr. Lawrence added.
However, he said that a lot of works have been carried out but more should be done to achieve a permanent peace.
It should be noted that the new U.S strategy for Afghanistan stresses on the fight against scaremongers, and a number of conditions have been put in face the Afghan government that must be implemented.