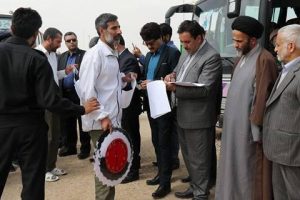 An Iranian judicial official said in the northeastern province of Khorasan Razavi that at least 200 Afghan prisoners were transferred from Iranian jails to Afghanistan to continue prison terms in their homeland.
Deputy Prosecutor of Khorasan Razavi Mojtaba Andalib Toulaei said the Afghan prisoners were repatriated according to the settlement reached on exchange of a number of prisoners between Iran and Afghanistan five years ago.
He said the Afghan officials also have transferred 23 Iranian prisoners to the country's judicial officials since the beginning of (March 20, 2016). Quoted from (IRNA).
Andalib Toulaei said at least 197 Afghan inmates have been transferred to the country's prisons, from (August 22-September 21).
Afghanistan is Iran's eastern neighbor. About seven million of Afghan people have moved to different world countries living there as refugees. Near three million of them are in Pakistan, and about 2.5 million in Iran. The rest are living in the European countries.