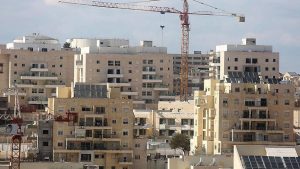 Finally, Israel decided to use a new area for Jewish housing, for the first time after Oslo peace accord, which means after 25 years.
The organization of "Peace Now" in response to the news, noting that this measure of Israeli government had been ceased since 1991.
In this way, Israel cabinet even broke the advice of Trump's administration that had invited them to continence for building new houses.
This new area for housing, which is created on the west bank of "Jordan River", named "Golati Zion" and the aim is to build houses for 40 Jewish families living in "Emona" area that an Israeli court issued the demolition of the houses last February. Quoted from (Radio France).
Netanyahu, who was under severe pressure from Lobbies Jewish area, after the court's verdict against the houses of the 200 to 300 of Jews living in Emona, before forming his cabinet vowed that he will be loyal to his promise of settling the Jews in a different area.
'Saeb Erekat', the second character of Palestinian authority, accused Israel that it continues destroying the prospect for peace in the region by stealing the lands and natural sources as in the past.
The organization of "Peace now", in response to the incident, stated that Netanyahu has become the hostage of the network builder of the Jewish areas and has put his political life over the interests of Israel sovereignty.
It is noteworthy that 400 thousands of Jews, who live in Israeli houses, co-live with 2 million 600 thousands Palestinian in the west bank of Jordan River. Although, it is not without tensions and associate with some conflicts. It is scheduled that in case of an independent Palestinian state, the area is considered to be a part of the country.