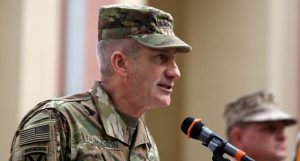 Commander of U.S forces in Afghanistan announced that by putting Pakistan under pressure and destroying terrorist shelters in this country, Afghan citizens themselves achieve peace.
General John Nicholson, commander of "resolute support mission" in the country declared: soon, American forces will probably be increased on the part of training and advising Afghanistan's soldiers, quoted from foreign media.
"Besides increasing foreign forces in Afghanistan, Islam-Abad must also be pressured by America, to change its approach about Afghanistan," he added.
"Pakistan worries lest India use Afghanistan soil against this country," Nicholson stated. "We assured Pakistan that this will not happen until coalition troops are in Afghanistan," he said.
The American commander said that in the current situation, Afghanistan's security forces has focused more on providing the security of overcrowded cities and places and do not give priority to far-reach places.
He underlined, in relation to six-party meeting about Afghanistan, which will be hold in Moscow that "the peace process must be led by Afghans and other countries can have facilitator role; but this process must eventually be acceptable to Afghanistan".
Nicholson stressed that "if terrorist safe-shelters in Pakistan territory be destroyed, Afghans themselves are able to achieve peace".
"leaving some areas to armed oppositions, is a conscious decision, because Afghan security forces focus on overcrowded areas, and these troops have provided the security of two-thirds of the whole population of this country and Taliban held less than 10 percent of these areas," he said.