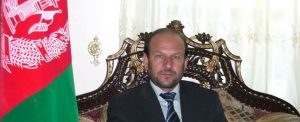 The provincial Farah governor Basir Salangi said that there is no evidence or documents about Iran's interference in insecurity cases of the province, and the armed oppositions attacks on Farah city.
Iran was accused of having hands in recent insecurity cases of Farah city by some provincial officials after Taliban massively attacked on the province last week.
Following the recent incidents, Farah governor Basir Salangi has said that Quetta and Peshawar Council, including ISI, were involved in the latest attacks on Farah city, and there is no evidence and documents about the interference of Iran in the attacks.
"Peshawar and Quetta councils are leading the Taliban group. When the leaders of Al-Qaeda Mullah Omar and Mullah Akhtar are found in Pakistan, it is clear that Pakistan and ISI are leading and organizing the Taliban," Farah governor asserted.
"We do not have any documents. When the media outlets ask us whether Iran has a role in insecurity or not, it is the people who think Iran may have something about Bakhshabad dam, but we do not have any credible document about the role of Iran in this regard," Salangi continued.
Farah governor also said that NATO and Afghanistan air forces targeted Taliban's gathering, logistic and depots after their attacks on the city.
200 Taliban fighters were killed and 100 more injured as a result of air attacks ground clashes in the city, he added. "when Taliban entered the houses and faced with people's resistance, lost their hope and left the area as they could not have access to National Directorate of Security, prison, bank and police headquarter."
According to him, 6 civilians were killed and 35 others injured in Taliban attacks.
Farah governor underlined that displaced people returned to their homes after Taliban fighters were suppressed.