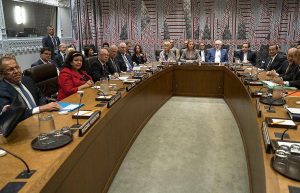 EU foreign policy chief Federica Mogherini said that there is no need to revise the Iranian nuclear deal.
Federica Mogherini said these words on the sidelines of the UN general assembly that there is no need to look over Bargam (Iranian nuclear deal).
"There is no need to renegotiate parts of the agreement because the agreement is concerning a nuclear program and as such is delivering," she told reporters. Quoted from Tass.
"We have all agreed that all sides are implementing so far the agreement," she said adding that the agreement had been eight times confirmed by the IAEA (International Atomic Energy Agency).
Commenting on the possible withdrawal of the US from the deal, Mogherini stressed that these agreements were not signed with one country. "This deal belongs to the international community," she added.
Meanwhile, the Russian foreign minister Sergei Lavrov reaffirmed Russia's commitment to maintaining the sustainability of the Joint Comprehensive Plan of Action (JCPOA) on the Iranian nuclear program.
"Russia will continue to support the sustainability of the JCPOA," Mr. Lavrov stressed.
The agreement on Iran's nuclear program was reached between Iran and six international mediators (the United Kingdom, Germany, China, Russia, the United States, and France) on July 14, 2015.