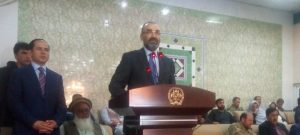 For me the white and black flag is the same and terrorists in any outfit are the enemy of the people, Atta Muhammad Noor, Balkh governor said, during the visit of Taj Mohammad Jahid, interior minister from Mazar-e-Sharif.
According to (DID) news agency report, "changing the type and policy of war and competition of regional powers transferred war to Northern provinces of the country," Atta M. Noor stated during the visit of the country's interior minister from officials and elders of Balkh province.
"currently, some countries are backing the Taliban and some supporting Daesh (ISIS), but Taliban and ISIS are the same for us and all are counted as terrorists and enemies." He added.
Mr. Noor noted the recent achievements in Balkh province, which began with joining a group of 250 members of Taliban to peace process in "Chamtal" district and ended with "Inkeshaf-e-Alborzha" operations, and added, "Those who joint the peace were not ordinary people, but the war machine of Taliban in the region."
"Some faces are trying to show these achievements and recent operations negative and reverse," Balkh governor said.
"These people are dirty and worse than Jews and Nasara." He added.
Balkh governor also urged the country's security agencies to push security forces out from defensive state and lead them toward the offensive.
"Launching joint operations among three provinces of Balkh-Jawzjan and Sare Pul are essential in order to eradicate insurgency." Mr. Noor underlined.
Balkh governor asked security officials to increase the armed forces organs in Balkh province in the parts of airport commandership, highway commandership and Protection Company of gas pipe line and also to create national force regiment and battalion, border police and public order police for Balkh province.
It is noteworthy that 70 Taliban members were killed and several others wounded and all areas related to Alborz Mountain were cleared of terrorists, during Inkeshaf-e-Alborzha operation, led by Atta M. Noor.