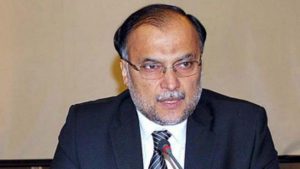 The Pakistani interior minister has said only the government of Pakistan is able to issue "fatwa on jihad."
According to BBC, the Pakistani interior minister Ahsan Eqbal said no one or group has the right to issue "Jihad" against other groups, while speaking at the country's national council.
Mr. Eqbal also asked the country's Ulema to condemn "Jihad fatwa" being published on social networks.
According to him, Pakistan will become a battle field among groups and minorities if "fatwa on jihad" continues.
Mawlana Fazl ur-Rahman, the leader of Pakistan's Ulema had previously declared Jihad against international forces in Afghanistan, which followed a wave of international criticism.