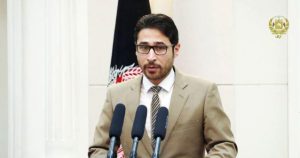 The presidential palace in response to the recent statement of Pakistani Prime Minister's foreign relation adviser said: these words show that Pakistan is afraid of how the U.S and China oversee the joint operation between the two countries.
"The location of the terrorist's sanctuaries and the Pakistani address as supporting them is clear to the world," Najibullah Azad, deputy spokesman for the Afghanistan's presidency said yesterday (Monday, 10 July) in an interview with Radio Azadi.
"Sartaj Aziz's words express their fear, because a coordinated operation will begin in the near future under the supervision of the United States and China. They afraid beforehand and such statements indicate their concerns," he said.
Sartaj Aziz, Pakistani Prime Minister's Foreign Relations Adviser, recently accused the Afghan president of supporting Taliban in an interview with Pakistani state television.