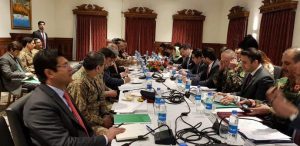 A Pakistani delegation visited Kabul Saturday and met with Afghan officials.
A top-level delegation of Pakistan's civil and military leadership, led by Foreign Secretary Tehmina Janjua, reached Afghanistan on Saturday to improve ties between Kabul and Islamabad.
Foreign Office spokesperson Mohammad Faisal on Friday confirmed the meeting and said Pakistan had proposed five joint working groups, focusing on ensuring a comprehensive engagement for countering terrorism, intelligence sharing, military, economy, trade and transit interaction, refugee repatriation and connectivity.
The Pakistani delegation travels to Kabul a few days after the trip of the Afghan National Security and Interior Ministers to Islamabad.
The Pakistani embassy had earlier said in a statement, the visit is based on an action plan for solidarity between the two countries, rejected any links with the trip of Afghan security officials to Pakistan.
But the Pakistani foreign ministry spokesman Mohammad Faisal said: the Afghan delegation provided us with information. We will review the information and soon express the outcome.
"We reject any charges related to supporting the Haqqani Network and the Taliban, let them go on our soil. Pakistan has taken steps against these terror groups, and it is our commitment to eradicate the presence of terrorists," he added.
High-ranking delegations of the two states have traveled several times before, and had discussions on a variety of issues, including security, but has not yet had a tangible outcome.