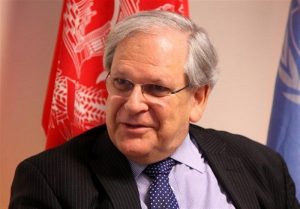 UN humanitarian coordinator in Afghanistan, gave notice about the possible humanitarian disaster in Afghanistan and there should be more assistance to Afghanistan.
Mark Bowden, the UN humanitarian coordinator in Afghanistan, in an interview with the UN news center said that there should be taken further assistance to internal displaced people, as well as to focus on poverty alleviation.
He asserted the Afghanistan war is being forgotten and I am worried about the civilians.
Mark Bowden stressed that according to the statistics of UN assistance mission in Afghanistan, more than 3 thousands 480 civilians killed and 7 thousand 920 other people wounded in 2016.
A senior member of the United Nations in Afghanistan, stressed that the increase in the number of deaths and injuries had been due to air strikes, clashes, Taliban assaults and ISIS attacks in the country. Quoted from (Tasnim).
Bowden said that there is concern of possible humanitarian disaster in the country.
He also underlined that just in 2016, more than half a million Afghans have left their houses and sought refuge.
Earlier, this year (Christian year), 'Stephen O'Brien,' deputy UN secretary-general for humanitarian affairs and aids had announced that internal refugees, returning asylum-seekers, as well as malnutrition, lack of health services and an increase in conflicts, has intensified the deterioration of humanitarian crisis in that country.
According to statistics, 2, 7 million human in Afghanistan suffers malnutrition that one million of these are children under five years. 35 percent of the children are being handled and 25 percent of them are being treated