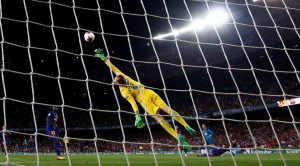 Real Madrid defeated Barcelona 3-1 last night, taking a great stride towards conquering Spanish Supercup.
Ronaldo, Isco, and Asensio were stars of the game.
The game was full of fringe and charming specially in the second half.
After Gerard Pique's own goal was followed by Lionel Messi's controversial penalty, Ronaldo struck a superb goal to put his team in control of the tie.
The interesting point was Ronaldo's celebration. The Portuguese superstar took revenge of Messi's celebration of months ago, by pulling out his shirt and showing it to Barca's fans.
In that game, Messi scored a winning goal for Barca and then carried out that controversial joy of the goal.