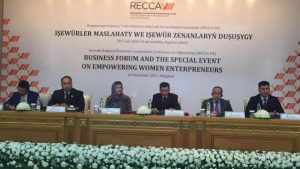 The seventh Regional Economic Cooperation Conference (RECCA) on Afghanistan embarked in Ashgabat, Turkmenistan.
According to DID news agency report, top officials from 44 regional and world countries and 38 international organizations attended the meeting.
Important trade and transit as well as regional cooperation agreements will be signed in the second day of the summit.
Senior Afghan delegation led by second vice president Sarwar Danish attended the meeting.
The meeting will also discuss connecting South and Central Asia through Afghanistan soil.
Turkmenistan had previously said regional cooperation will bring peace and stability in the region and boosts regional economic affairs.
It should be noted that previous RECCA summit had been held in Kabul.