Latest News
Region
Rouhani stresses on Afghanistan-Iran cooperation to counter terrorism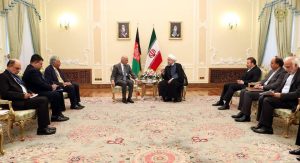 Hassan Rouhani in a meeting with Afghan President Ashraf Ghani stressed that Tehran welcomes cooperation with Kabul.
The Islamic Republic of Iran spares no efforts to develop and stabilize security and welfare of Afghans, he added.
He pointed to the 40-year insecurity and instability in Afghanistan, saying Iran has always stood by Afghan people in different segments of history.
He also referred to Chabahar Port as a suitable link to promote economic, trade and mineral cooperation between two countries.
He pointed to terrorism as a common dilemma for both countries, and he urged cooperation between Iran and Afghanistan in fighting terrorism.
Meanwhile, Ashraf Ghani expressed congratulations over Rouhani's re-election as Iran next president.
Ghani also appreciated Iran's efforts in bringing peace and stability in Afghanistan.
Afghanistan is after maintaining cooperation with the neighboring countries like Iran to safeguard borders, he added.