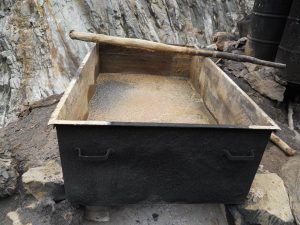 The Afghan National Defense and Security Forces (ANDSF) personnel discovered and destroyed two heroin factories in the eastern Nangarhar province of Afghanistan.
According to the local government officials, the two factories were located in Kambo area of Khogyani district which were discovered by the Special Forces of the Ministry of Interior. Quoted from (Khama press)
The officials further added that the operation to destroy the two factories was launched around 8 pm local time and concluded in the early hours of Monday morning.
The provincial government media office in a statement said this is not the first time the Afghan forces have discovered and destroyed major heroin factories in this province but several factories were destroyed during the similar operations in the past.
This comes as there has been a sharp rise in opium cultivation, production and smuggling across the country during the recent months.
According to the last survey report, there has been a 43 percent rise in opium cultivation in Afghanistan.
The survey jointly conducted by the Afghan authorities and United Nations Office on Drugs and Crime, around 201,000 acres of land were cultivated with opium in 2016.
The report further added that estimates show a total of 4,800 metric tons of opium will be produced in 2016.
According to the officials, instability, lack of funds to fight opium cultivation and production, and hot season played key roles in growing opium cultivation in Afghanistan during the year 2016.