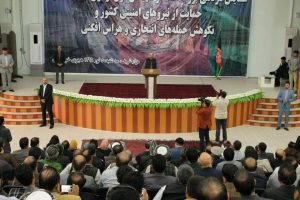 A public conference was held in Mazar-e-Sharif, attended by different groups of Balkh people in order to commemorate the martyrs of the 209th Shaheen corps and supporting the security forces.
According to (DID) news agency report, more than a thousand different groups of Balkh people, including the scholars, government officials, representatives of the provincial council, civil activists and youths had attended the conference.
"Countries which consider themselves democratic, are backing terrorist organizations in Afghanistan," Mohammad Mohaqeq, second deputy of country's executive directorate, who had attended the ceremony said.
"The enemies intend to eliminate the unity of the people, so that people's differences prevent them to seriously and strongly stand against the enemies," he added.
On the other hand, Atta M. Noor, Balkh governor besides appreciating the courage and bravery of the people in the fight against terrorism, said that country's security forces are not alone, because the people of Balkh are step by step with them and every moment are helping them.
Balkh governor considered the military and war doctrine unsuccessful in the country, and added, "security forces should have offensive spirit."
"Currently, we are facing war and military management crisis and the president must immediately make fundamental changes in the management and leadership of the country's armed forces," Mr. Noor asserted.
He again stressed that the appointments should be based on merit and ability, not based on ethnic, party and political considerations.
Balkh governor urged the government to have a clear policy for peace and a certain definition of friend and foe.
"Many donor countries negotiate separately with the Taliban that it will legitimize the terrorists," he said.
Ulema, provincial council, civil activists, and youths expressed their support from country's security forces in the conference too.
It is noteworthy that people of Balkh, civil society, and provincial council had previously condemned Friday's incident in Shaheen corps.