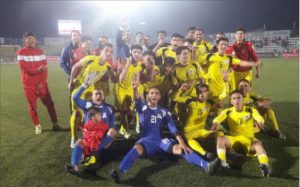 "De Maiwand Atalan" and "Shahheen Asmayee" football teams met each in the Afghanistan's final match last night.
The first half ended up 2-0 in favor of Shaheen. But the second half was started by attacks from De Maiwand Atalan players who succeeded to score their first goal in 46th minute of the match.
Shaheen players succeeded to score the third goal through continuous attacks, but Atalan players could draw the match at 70th.
The game which had about 7 thousand spectators at the international Kabul stadium ended 2-2 and went extra time.
In the first 15 minutes of extra time, Shaheen Asmayee scored 2 more goals with double shots, but in the second 15 minutes, De Maiwanad Atalan team scored another goal which the match ended 4-3 in favor of Shaheen Asmayee.
Shaheen Asmayee became champions of Afghanistan's premier league.
Meanwhile, President Ghani met with the finalists of this year's Afghan Premier League (APL) – Shaheen Asmayee and De Maiwand Atalan – on Saturday morning at the Presidential Palace.
According to the ARG Palace Ghani congratulated this year's winners Shaheen Asmayee.
Shaheen Asmayee Football Club won the Afghan Premier League's (APL) championship for the fourth time after winning the finals against De Maiwand Atalan on Friday night.
Shaheen Asmayee, De Maiwand Atalan, Toofan Harirod, Simorgh Alborz, Mawjhai Amu, De Spinghar Bazan, De Abasin Sape, and Oqaban Hindukosh were the eight APL teams in this year's league that represented all 34 provinces in Afghanistan.