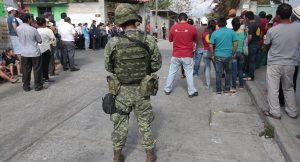 Mexican troops were attacked by gang members dressed in fake military uniforms in the city of Teloloapan.
8 gunmen dressed up as servicemen and a Mexican soldier were killed in the western Mexican state of Guerrero, said local authorities.
According to Roberto Alvarez Heredia, a spokesman of the coordination group of the Guerrero state, the gunmen attacked the servicemen patrolling the area in the municipality of Teloloapan on late Saturday. Sputnik reported.
Two cars colored as military ones, weapons and military uniform were confiscated at the site," said the spokesman.