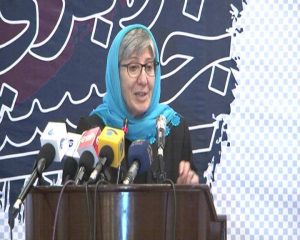 Head of independent human rights commission is extremely concerned about continuing gender inequality and violence against women in the country.
According to (DID) news agency report, a one-day conference on gender equality was launched by independent human rights commission, attended by Afghan government officials and a number of women rights activists.
Sima Samar, president of independent human rights criticized from gender inequality in the conference, and said, as long as these inequalities do not end, Afghanistan will not witness stability and a balanced development.
Head of independent human rights commission, suggested to political leaders to seriously fight against impunity culture and harmful traditional practices, and the status of women should be settled in various levels of government.
Meanwhile, Delbar Nazari, minister of women's affairs also says that the government and the ministry of women's affairs made efforts to improve women status and different programs are on the table.
But the minister of women's affairs believes that the current works and plans are insufficient.
Lack of women's access to justice, violence against women and fear of victimization of women in political deals are serious challenges against women, in which effective measures have not been conducted so far.