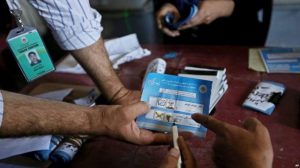 Leaked reports from ARG palace suggest that current president has plans for the upcoming presidential election. The disclosure of credits given to Gulbuddin Hekmatyar by Ashraf Ghani, it seems that he is Mr. Ghani's allies in the election.
Meanwhile, a member of Hezb-e Junbish-e Milli who asked to remain unknown says: "representatives of Mr. Ghani have met with local elders for talks and collecting votes in favor of Ghani in Faryab province," adding "Ghani has taken a new policy towards Uzbek people, and that is direct contact with influential figures who deal with people's votes. In return, promised them to assign in governmental posts."
On the other hand, Ghani has made close contacts with "Hezb-e Junbish-e Naween" in order to put up his votes from among Uzbek people.
Sarwar Danish and Karim Khalili as representatives of Hazara people will be close allies of Mr. Ghani at the coming election. On the other side of the equation, there are attempts to win the future presidential election by political oppositions of ARG palace that Ata Mohammad Noor is one of the most serious figures.
Mr. Noor has recently vowed that if he fights for a post, that will be the presidential post, as he openly says: "They have offered me ministry but I did not accept." Mr. Noor's words suggest a new era of struggle. Expressing these words, he wants to say that he will never be with an administration which it came up by frauds and also offering him a significant post.
The visits and trips of Balkh governor point out that he seeks to form a strong electoral camp against the current government. There are indications that Mr. Noor in coordination with Mashriqi council and Zahir Qadir, Loya Qandahar council and Gen. Abdul Raziq, Amir Ismael Khan in west of the country and newer figures like first deputy speaker of the parliament Humayun Humayun and former chief of national security directorate Asadullah Khalid, has created a political force in line with influential figures like Gen. Dostum, Mohammad Mohaqiq and Wahdat and Junbish parties that can create a lot of troubles for ARG team and its political supporters in the upcoming elections.
The team which is now formed with the axis of Balkh governor will not succumb to such outcome of the election like Convergence and Reform team to end up with a commercial post like executive directorate.
The political and election equation in Afghanistan has another powerful invisible player. Washington will not stay calm and will take a side that works for the US presence. Recently, a report has been published by a credible foreign magazine, saying America in cooperation with returned technocrats from the west came to eliminate Mujahidin and those who, according to them, were deterrent forces of reconstruction and development. The report clearly shows that Americans are trying a lot to bring their agents to power.
Considering the three mentioned weights, 2018 (1398 solar year) election will be different from any perspective; because ARG team with the support of Washington, having the executive power and the opposition led by Mr. Noor, relying on political Coalitions and consolidating the dispersed electoral potentials, each try to further influence the electoral process, achieving more votes. If the opposition which is formed with Mr. Noor's axis, is trying to achieve more votes and to "knock out" its election rival, it should have a thorough and comprehensive pathology of the country's ethnographic situation, potential sources of corruption in the election commission, the possibility of government involvement in the process of counting and result of the votes and its front's weaknesses. Another important step to go for a clear and transparent election, is the insistence of Mr. Noor and his companion to reform the election commission; if the leadership of the commission is not reformed and still cling to ARG, one should not expect a transparent election.
If the election commission remains with the same structure which is not accepted and trusted by the influential political movements, and their opinions and the ideas of different sides are not considered, and if ARG insist on this structure; the interim government should be formed, taking responsibility of holding impartial election and providing the basis for the full participation of political movements. A temporary government that does not legally have the right to participate in the election process.
In all, we all well aware that the upcoming parliamentary and presidential election will be something different from the previous elections that holds the breaths now.
Mahdi Sarbaz – (DID) press agency
Translated by Taher Mojab