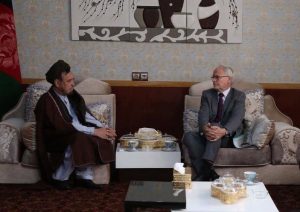 Second deputy of the Chief Directorate and a member of Etelaf-e Nejat (Rescue coalition) Mohammad Mohaqiq in a meeting with Nicholas Kay, Britain's envoy in Afghanistan said that Takfiri groups do not differentiate Shia and Sunni and the attack on 209 Shaheen corps and Herat grand mosque shows that they target Sunni people too.
"8 deadly attacks has been carried out on Shiite places and gatherings that have killed and injured more than a thousand people during one past year," Mr. Mohaqiq added.
According to him, a security plan to protect religious places was organized a year ago and was delivered to the Security Council, but it was deemed impractical and rejected.
Meanwhile, Britain's envoy in Kabul said that his country backs Afghanistan's political process with a view of ensuring universality in the government.
In the past one year, Shiite gathering in Kabul and in the provinces have been targeted by several deadly attacks, and Daesh (ISIS/ISIL) claimed all responsibility.