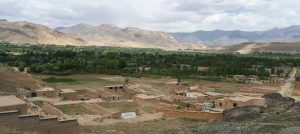 Taliban militant commander was killed in clashes between police and armed Taliban in Jalrez district, according to security officials in Maidan Wardak province.
Mawlawi Abdul Rahman, a militant commander of Taliban for Jalrez district of Maidan Wardak province, along with four other scaremongers were killed and wounded during clashes between the police, Ahmad Fahim Qaem, the police commander of the province told DID news agency.
"One national police was martyred and 2 others were wounded," he added.
The security official added that Taliban militant commander, Malawi Abdul Rahman was involved in the majority of the clashes, kidnappings, armed robberies and the attack on the security checkpoints and highway (2).
Yesterday (Monday, 10 July), Ahmad Fahim Qaem had ordered the security forces not to have any mercy on any of the Taliban forces.