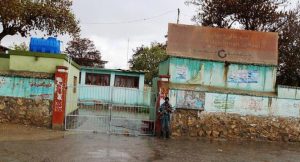 After Taliban threated several girls' schools in Ghazni province, they were closed, officials at the province say.
"Taliban affiliates threatened managers of several girls' school in Ghazni province, saying girls are not allowed to be taught more than secondary and higher period," Hassan Reza Yousufi, a member of Ghazni provincial council in an interview with DID press agency said.
"A number of girls' schools have been closed in Ghazni province since a week onward," Mr. Yousufi added.
On the other hand, Mohammad Abed Abed, head of Ghazni province education confirmed that managers of girls' schools have been threatened, but says that it is not clear which group have threatened them.
He stresses that local elders and Ulema have taken measures to solve the problem and currently, girls' schools have normal activities.