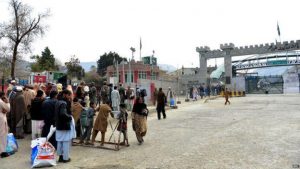 Pakistani troops closed Torkham border on passengers, local officials of Nangarhar province say.
Ataullah Khugiani provincial governor's spokesman said that Pakistani forces closed Torkham border on passenger and commercial vehicles Friday.
"Pakistani troops closed the border after an explosion occurred on the other side of Torkham border that injured several people," Mr. Khugiani added.
Torkham is an important crossing border that Pakistani military forces occasionally close this border to put pressure on Afghanistan.