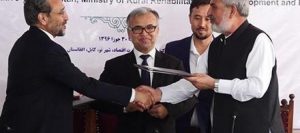 The Construction Sector Transparency Initiative (CoST) of Afghanistan signed an agreement with the Ministries of Rural Rehabilitation and Development and Ministry of Public Works.
The agreement requires that the ministries have to share all information regarding building projects with the people.
CoST falls under the Ministry of Economy and is in charge of monitoring any construction project taken up by the aforementioned ministries. Quoted from (Wadsam).
Economy Minister Abdul Sattar Murad said they were going to sign more agreements with other government institutions to help bring transparency in government activities and in spending money.
"The information will be released according to the procedure of the Construction Sector Transparency Initiative-Afghanistan," said Sebghatullah Karimi, CoST's national coordinator. "After the release of the information, in the second phase, the information will be categorized and then we will assess the information as to whether it is correct or not."
Both the Ministries are prepared to share all project information with the people.