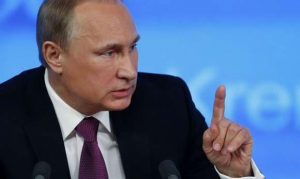 President Vladimir Putin said the United States would have to cut its diplomatic staff in Russia by 755 people and that Moscow could consider additional measures against Washington as a response to new US sanctions approved by Congress.
Moscow ordered the United States on Friday to cut hundreds of diplomatic staff and said it would seize two US diplomatic properties after the US House of Representatives and the Senate overwhelmingly approved new sanctions on Russia.
Putin said in an interview with Vesti TV released on Sunday that the United States would have to cut its diplomatic and technical staff by 755 people by Sept. 1. According to Al-Arabiya.
"Because more than 1,000 workers – diplomats and support staff – were working and are still working in Russia, 755 must stop their activity in the Russian Federation," he said.
The US administration also expelled 35 Russia diplomats and seized two Russian compounds in the States of New York and Maryland.
Earlier in the week, the US Senate adopted by an overwhelming majority of 98 against 2 votes a bill toughening the US' unilateral sanctions against Russia, Iran and North Korea.