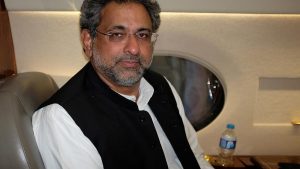 Pakistani Prime Minister stressed that the new U.S strategy in Afghanistan war will fail.
Pakistan's Prime Minister Shaheed Khaqan Abbasi said that the new American strategy will fail in Afghanistan.
However, regional countries including Russia and Iran have read Trump's administration strategy "futile."
Meanwhile, Islamabad has opposed with the trip of deputy U.S Secretary of state to Pakistan and postponed the trip.
It was scheduled that today (Monday, 28 August), Alice Wells, deputy secretary of state of the White-House to travel to Pakistan.
Tensions raised between Pakistan and the White-House, following America's new strategy in Afghanistan.