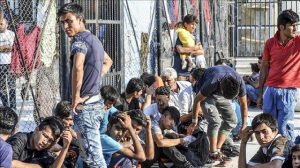 A total of 351 irregular migrants have been held in Turkey's northwestern Edirne province, according to a Turkey's gendarmerie source.
Turkish border soldiers and gendarmerie forces carried out inspections in some villages of Edirne and Uzunkopru and Ipsala districts for three days, Anadolu news agency reported.
During the inspection, 351 irregular migrants who were trying to cross into Greece and Bulgaria through illegal routes were held, the news agency quoted from the source who asked to remain unknown.
Among the migrants were Syrians, Palestinians, Bangladeshis, Afghans, Indians, Iranians, Iraqis and Sri Lankans.
Turkey has been the main route for migrants trying to cross into Europe, especially since the beginning of the civil war in Syria.