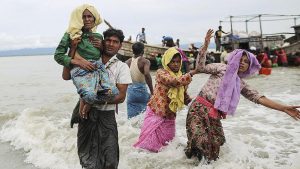 U.N. Security Council condemned late Wednesday the violence in Myanmar's Rakhine State which made nearly 380,000 Rohingya Muslims to leave for Bangladesh.
The United Nations called for "immediate steps to end the violence" and efforts to de-escalate the situation, ensure protection of civilians and resolve the refugee problem. Quoted from foreign media.
U.N. Secretary-General Antonio Guterres told reporters that 'genocide' is taking place against Muslim people in Myanmar.
Meanwhile, Myanmar government said earlier on the same day that its leader, Aung San Suu Kyi, will skip this month's U.N. General Assembly meetings.
"Suu Kyi will miss the assembly's ministerial session, which opens Sept. 19 and runs through Sept. 25, in order to address domestic security issues," said presidential office spokesman Zaw Htay.
"As President Htin Kyaw hospitalized, second Vice President Henry Van Tio will attend the U.N. meeting," Zaw Htay added.
Rohingya have faced decades of discrimination and persecution in Myanmar, where they are denied citizenship despite centuries-old roots in the country.