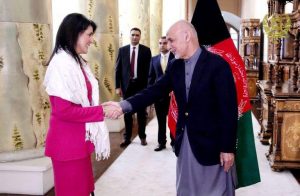 The members of UN Security Council entered Afghanistan Saturday and met with president Ghani.
The meeting was attended by members of the UN Security Council from the United States, China, Britain, Russia, France, Sweden, Poland, Kazakhstan, Bolivia, Italy, Kuwait, Honduras, Peru, Guinea and Côte d'Ivoire.
The 15-member delegation included the president of UNSC Kairat Umarov discussed the security situation in Afghanistan and the region, counter-terrorism, corruption, drug trafficking, acceleration of peace process, preparation for elections, reforms in governance, strengthening the establishment, women's participation in governance with the president.
The meeting also stressed on escalating pressure on Pakistan to prevent the country backing up terror groups.
"We had good achievements in regional and economic relations with Central Asia, Russia, China, and Iran. Efforts have also been made to improve relations with Pakistan, but was not effective," president Ghani said.
Mr. Ghani presented examples and evidence about the activity, training, financing terror groups including Daesh terror group to the members of the UN Security Council.
President Ghani also provided information on the country's security and defense forces measures to destroy factories producing drugs. He also said the government has strong will to hold the election on time.
Meanwhile, Kazakh envoy to the UN Umarov said, the UN Security Council support the Afghan government in regard to bringing peace, stability, and development of the country.
"We have traveled to Kabul to study progress in various areas of Afghanistan, especially the peace process and how to accelerate progress," Mr. Umarov said.
On the other hand, the US ambassador to the United Nations Nikki Haley said the security and stability of Afghanistan are important for the region.
"The United States works with the Afghan people and we want to see real reform and development in this country to ensure our cooperation," Haley said.
There were also speculations that the delegation came to Afghanistan as a result of recent tensions raised between Kabul and Balkh.