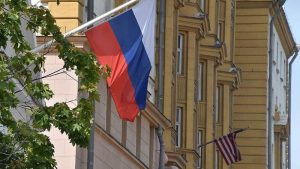 The U.S. embassy in Russia will suspend all nonimmigrant visa operations across Russia on Wednesday, the embassy said Monday.
The move comes as Russia retaliated last month against U.S. Congressional approval of fresh American sanctions, ordering Washington to cut its diplomatic presence in Russia by 755 people.
The embassy also announced that "all nonimmigrant visa operations across Russia will be suspended starting August 23." Quoted from foreign media.
U.S. nonimmigrant visas cover several categories of travelers, including businesspeople, students, medical travelers and journalists.
Earlier Russian citizens could apply for tourist visas in local US consulates in St. Petersburg, Yekaterinburg and Vladivostok, but the move ends this practice, forcing applicants to go to the Russian capital.
"We will maintain sufficient staff to carry out essential elements of our mission," the embassy added.