The new doctrine is very dangerous from the point of view of violating nuclear deterrence principles.
---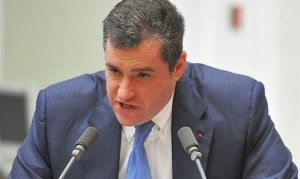 "The promulgated provisions that allow the use of nuclear weapons as a means of fighting the enemy rather than a means of mass destruction can provoke a spiral in the arms race in the world," the senior Russian lawmaker Slutsky told reporters.
According to TASS news agency, the US strategy to develop compact nuclear warheads, which are easy to use, reduces the obstacles for their use and, thereby, increases the threat of a nuclear war, including in the presence of such factor as North Korea.
On Friday, the Pentagon released an updated Nuclear Posture Review, the sweeping review of the United States' nuclear arms policy. In particular, it says that the US "has formal extended deterrence commitments that assure" more than 30 allies.
"Totally unfounded and unsubstantiated accusations of non-compliance with our obligations in nuclear disarmament are again being put forward," Slutsky noted